Learn features of QMS viz.. Non-Conformance and CAPA with Root Cause Analysis, Internal and External Audits, Risk Management, Continuous Improvement and Management Reviews for quality improvement.
Non-Conformances
NC tracks and manages a broad range of non-conformities/incidents from many sources, such as manufacturing, supplier quality, gaps in adherence to systems & processes, internal audit findings, customer complaints etc. Standard methods for root cause analysis like 5Why, 4W & 1H, Cause & Effect are available as part of the solution. Complete data are captured along with identified Corrective Actions and Preventive actions and they are saved as knowledge bank for any future reference or needs.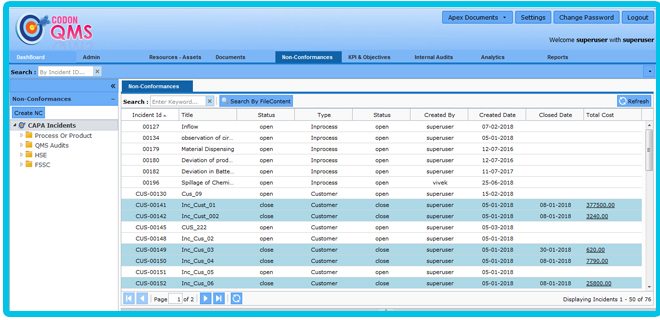 ---
Documents
CodonQMS - Documents Provide access to documents securely and based on appropriate users that have right privileges. Easy maintenance of documents with bulk uploading, scan & uploading, alerting, annotation facilities etc. Access for uploading to predefined people and approving through workflow mechanism. Version or Revision control for the control of changes as per user's choice. Provides Amendment record capturing all changes made. Per Document application provides check-in and check-out actions for different versions of the documents. Folder actions and document actions are maintained separately.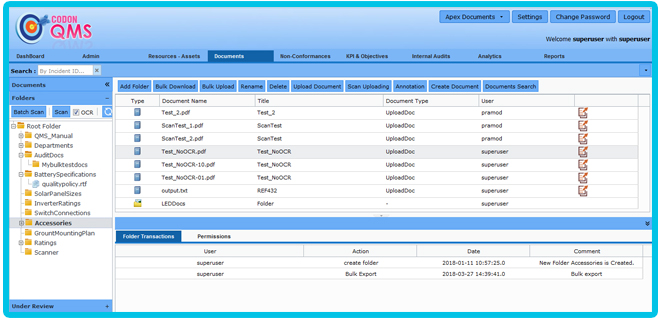 ---
Analytics
Provides systematic analysis of data using statistical techniques/graphs for the information being captured and processed through the software application - ex NC & CAPA, Customer complaints handling, Assets performance, etc. Additional key performance data can be added to get the reports as MIS for Management review and decision making.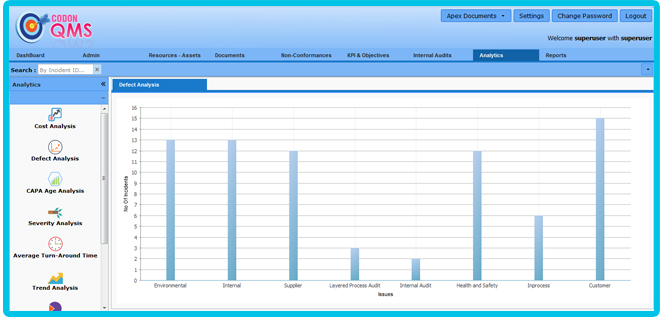 ---
Assets
Captures all movable & non-movable assets/resources. Helps in allocating movable assets effectively across locations where necessary. Manages preventive maintenance requirements and provides alerts for schedule adhrence. Addresses the calibration requirements and maps the calibration records.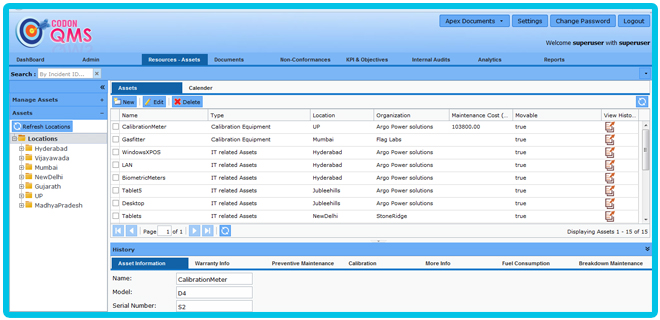 ---
Reports
Weekly, Monthly, Yearly reports are made available to understand the trends and to identify the opportunities for improvement. It also has the feature of generating the records in pdf format.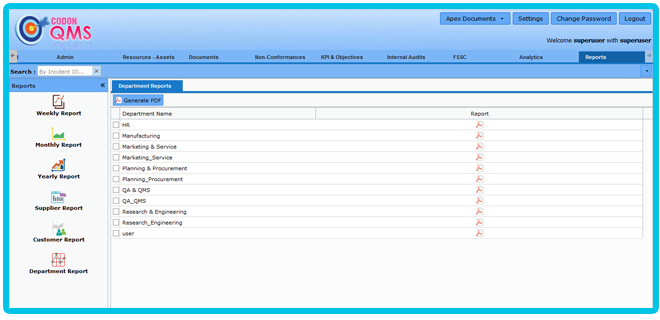 ---
Work orders
Work orders are simply requests for services that need to be attended by personnel. WorkOrders are either automatically generated (based on PM schedules) or based on requests and need of particular departments. This feature provide details about the services and utilisation of manpower, and time.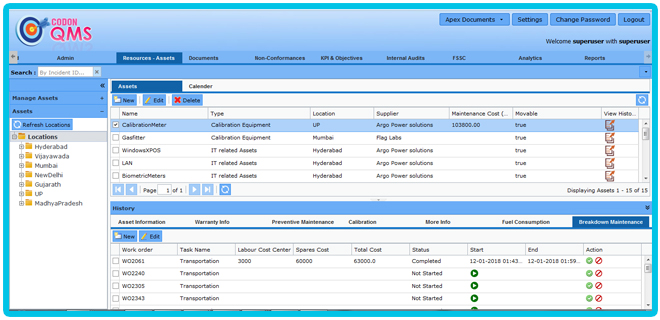 ---
Locations
Provides geographical view of locations and assets assigned. This will give us birds-eye-view of assets spread out about the organization. Easy to get reports based on locations based on asset failures, MTBF etc. to evaluate and modify the proceses currently in place at these locations to improve RoI.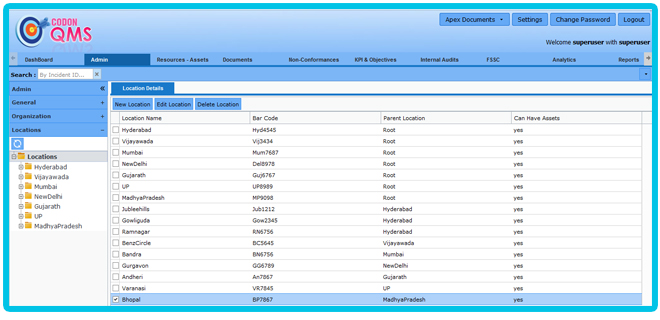 ---
Audit Log
Our application tracks the log-in information, provides the details of all the activities done by the users. So that it is easy to know the status quickly to the entire team.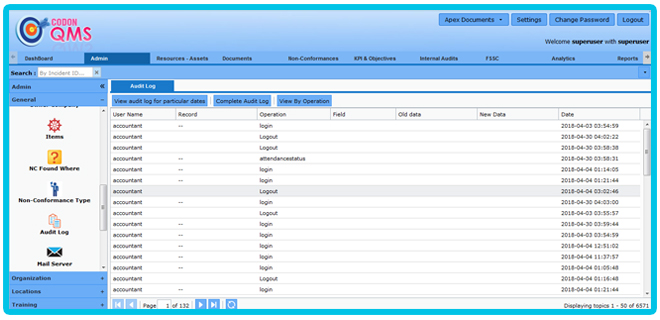 ---
Work flow
CodonQMS is a work-flow based system. A document, from its creation, flows through a workflow, and the authorized personnel in an organization hierarchy can review the document at the different stages in the workflow and approve or reject the document.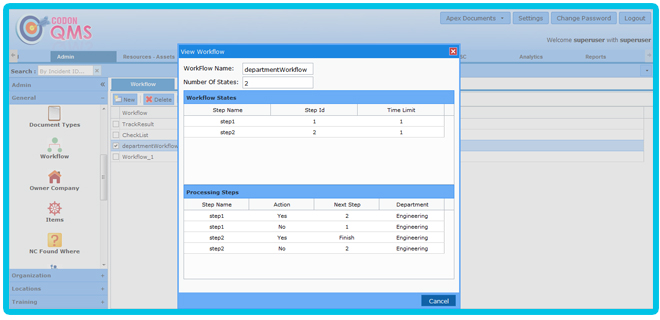 ---
Root cause analysis
The application provides convenient root cause analyses to the customers for the raised incidents one can understands very easily. Based on the analysis follow-ups, further actions would be taken to resolve the issues.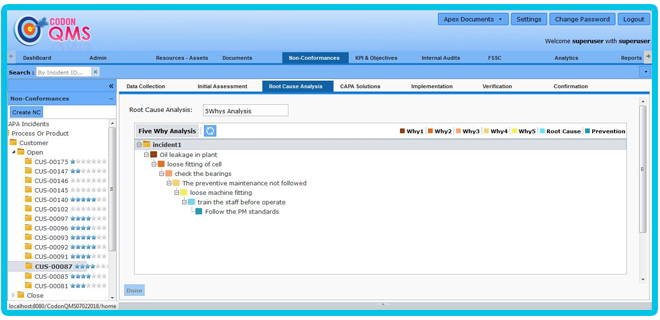 ---
Tasks
Tasks are the well-defined templates that simplify the workorder creation, thus reducing the repetition of data entry as well as saving time. Hence repeated services and estimations for the incidents can be created with less effort which increases the performance.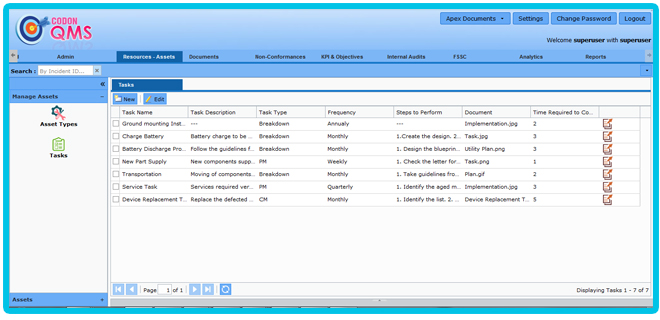 ---
Dashboard
Provides 360 degree view of the processes and analytics based on data entered into the system. Briefly this will help teams by providing timely alerts, pending status of current non-conformances and other incidents, graphical display of analytics etc.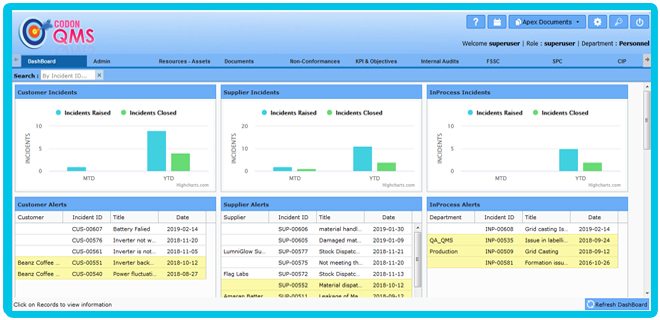 ---
Internal Audits
Codon QMS provides internal auditing which ensures the internal functions of an organization upholding the highest standards at all times or not. Scheduling the audit, audit execution, supervision and management, reporting the NC details as well as audit details are the functions improve the effectiveness of risk management and control.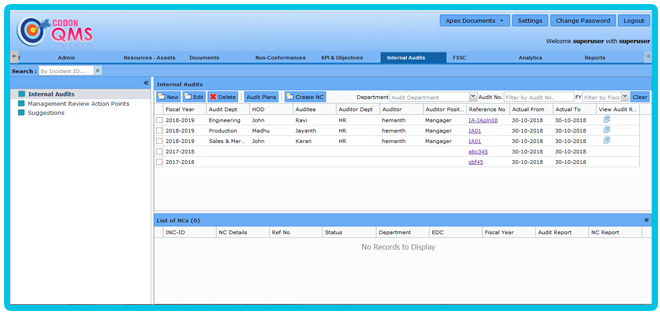 ---
KPIs & Objectives
A Key Performance Indicator is a measurable value that demonstrates how effectively a company is achieving key business objectives. Organizations use KPIs at multiple levels to evaluate their success at reaching targets. CodonQMS providing department level as well as organization level KPIs which focus on processes in departments and on overall performance of the enterprise.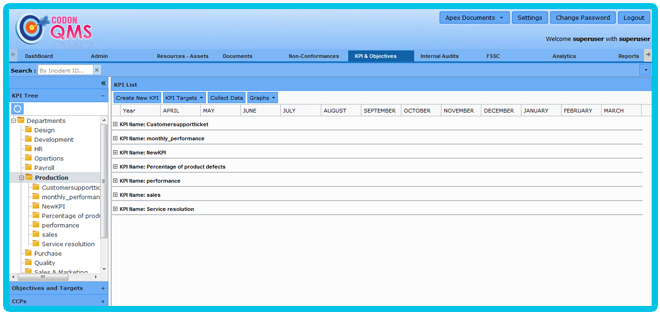 ---
Management Review & Action Points
The management review process must ensure the necessary information is collected ahead of time to allow management effectively perform the review. CodonQMS provides the management review process, periodically review the QMS to ensure its continuing suitability, adequacy, effectiveness with the strategic direction of the organization. A set of action points would be defined and the status will be tracked with certain minutes of meeting the same will be retained as documented information.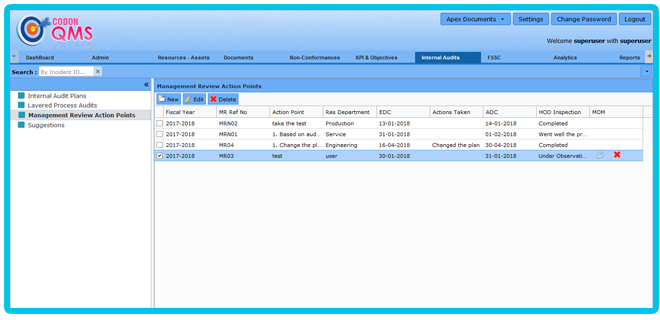 ---
Statistical Process Control (SPC)
Provision for making X bar and R charts for each process
Provision for data collection at defined time intervals for multiple samples
Manual data entry and tablet option for direct entry at the point of data collection
Once data is fed, the control charts are generated for the shift/day
Provision to measure the process capability Cp, Cpk for a defined period.
Provision to capture the category wise defects for each shift/day and making pareto analysis
---
Continuous Improvements (CI)
Opportunities are captured as and when found and opportunity bank is created
Projects are selected by process owners based on Organization priorities
A seven step approach is used for systematic analysis and reviews at every stage.
While this follows P-D-C-A-cycle, the stages include - Project definition & CFT formation, Current status measure, Facts analysis, Solution& testing, Implementing solution, Monitoring results & Evaluation. When Six Sigma methodology is used, DMAIC phases are brought in.

....

At every stage information related to tools used, reviews conducted, final outcomes are recorded
Project status tracking is done for Management monitoring and timely completion
Completed projects hard savings are captured for 12 months to monitor the end gains.
The learnings are effectively made available as a knowledge bank for future reference
Dash board provides analysis of no. of opportunities available, no. of projects under implementation on a given day and no. of projects completed during that financial year
Read more